Riverside QuickBooks Pro Advisor Jackie Anderson – Customized QuickBooks training and support solutions. Need QuickBooks help? CALL NOW
My Team can Help you Solve your QuickBooks Problems
My name is Jackie Anderson and I am known as the "QuickBooks Lady"; you have come to the right place for the QuickBooks help you need. I have the team in place and the skill set you need to help solve your QuickBooks problems and grow a profitable business. Our firm provides specialized training on not only how to set up and use your accounting software, but also what reports you should track on a daily basis and what your numbers mean.
Customized Solutions to Meet your Needs
Anderson and Associates has become a leading accounting firm in delivering customized solutions on a timely and cost effective basis:
Attend one of our QuickBooks seminars – We train on the Basic, Pro and Premier versions of the software, as well as QuickBooks Enterprise and QuickBooks Online. In addition, we can assist you with vertical market versions of the software such as the Contractors Edition. I have been delivering QuickBooks seminars in the Riverside area for close to fifteen years. I have the EXPERIENCE you need.
Schedule onsite training at your office – One of our Riverside QuickBooks Pro Advisors will come to your location and either setup or fix problems in QuickBooks and then train your staff on how to correctly use the software for maximum efficiency.
Allow us to remotely and securely connect to your computer – Our firm's advanced QuickBooks services allow us to remotely control our clients' computers for training and troubleshooting purposes.
Outsource all or part of the bookkeeping function to our firm – If you are over your head and sick and tired of trying to keep accurate books while running a business, let us do it for you for less than it would cost you in-house. Our core competency is bookkeeping, tax and accounting; if it is not yours, you may find you are far more productive and your company more profitable by focusing on what you do best and leaving the rest to others.
We are the Business Coach you NEED
Jackie and her team of Riverside QuickBooks Pro Advisors, technology experts, tax and business consultants, and business coaches have the ability to assist you with the most difficult accounting challenges that can occur in any type of business venture. We pride ourselves in the close working relationships we have established with our clients and the outstanding consulting and financial services we provide to not only help them survive, but thrive in today's competitive market.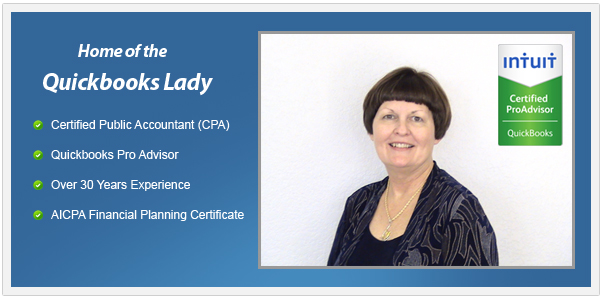 CALL NOW FOR HELP  951.682.2051 or visit http://www.therightcpa.com/