Follow these simple guidelines on how to repair a damaged file in QuickBooks®. QuickBooks software has a built in utility to rebuild your company file if it becomes damaged. It is appropriate to rebuild your company file if you encounter these circumstances:
• You tried to verify your company file (.qbw) and it failed
• You receive a b-check error from the verify utility
• Your payroll forms incorrectly display
In QuickBooks versions 2006 or later, your company file must be opened successfully prior to it being rebuilt. What this means is that the Rebuild Data features has limited functionality and works when your company file damage does not prevent the opening of your file.
How to repair a damaged file
To rebuild your company file in QuickBooks:
• Select the following choices from the menu to run the QuickBooks rebuild utility. File/Utilities/Rebuild Data
• Follow steps below to back up your data
• Do not interrupt the rebuilding process until it is completed
After you have started the QuickBooks Rebuild Data utility, the software prompts you to backup your company file before you continue. To back up:
• This box appears and click OK

• Select options and type (online or local)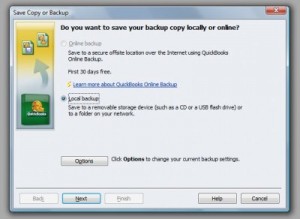 • Select a location where your backup copy will be saved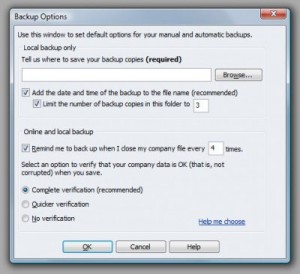 • While your company file is being rebuilt, make sure your computer is uninterrupted
• Click on OK when you see the message "rebuild has completed"
If you have additional questions on how to repair a damaged file in QuickBooks, or need help with any other aspect of the software, contact our local QuickBooks expert in your area. Click on the Find a Trainer tab above for information on our QuickBooks ProAdvisor in your area that can help you resolve your problems.