It is easy to record a QuickBooks deposit (bank deposits you want recorded in QuickBooks) by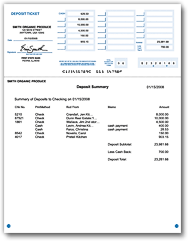 following the steps below.
Select "Banking" and choose the "Make Deposits" command. At this point QuickBooks® will display a dialogue box "Payments to Deposit". In the dialogue box you will see payments that were recorded previously using the "Enter Sales Receipts" and "Receive Payment" commands that appear on your QuickBooks Customers menu.
Choose your payments to deposit from the Payments to Deposit dialogue pop-up. Click on the "Select All" button if you would like to deposit all of the payments that are listed. You can also choose to deposit an individual payment by simply clicking on the payment. A checkmark will appear by the payments you have selected to deposit.
Now click "OK" – Once you click the OK button, the "Make Deposits" window will appear.
To identify which bank account you want to record the QuickBooks deposit to, utilize the "Deposit To" box to select the account. Then record the date of the deposit in the "Date" box.
Now is the time to record deposits that are not in the "Make Deposits" window. This may sound confusing, but as part of the same deposit, if you need to include some additional payment that is not listed in the window, you simply use the empty row that appears next to describe the payment.To enter the payment description, identify the vendor, customer or other business or person  making the payment in the "Received From" column. The "From Account" should be used to name the account you want to credit for the payment. For example, if a customer's payment is a sale, the "Sales Revenue" account is the one to name in the "From Account" column. You can use other columns, such as Chk No, Memo, Pmt Meth., Class and Amount in the Make Deposits window to provide additional information about the payment.
Identify Cash Back Amounts. Record a cash back amount if you are making a deposit but choose to hold some of the deposit back to use as cash. Use the "Cash Back Goes To" dialogue box to record a cash back amount. The Cash Back memo field should be used to describe reasons for this transaction.  Enter the amount of cash held back into the Cash Back Amount box. Now save the QuickBooks Deposit Transaction. Don't forget to click the Save & New or Save & Close buttons to make sure the deposits you just recorded are saved. This is an easy step to overlook. Once you have clicked save, QuickBooks will record your deposits in appropriate bank accounts.