Business owners must often make difficult choices about how to prioritize work. Making a strategic prioritization can help you achieve your financial and business goals. Follow this process to help you determine the order of priorities in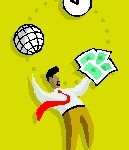 your business.
Write down everything. Put all of your ideas, tasks, projects and daily transactions on paper. Make a spreadsheet that details this information so that you can easily visualize everything at one time. This also gives you the advantage of sorting the list to maximize your time and energy.
Create additional columns to detail information about each item that you just listed. Consider whether this task or idea will work in your business as client work, overhead or other similar capacities or whether it will work on your business, such as providing ideas for new products, services, procedures, hiring, marketing or expansion. Second, consider whether this task will generate revenue or cause you to lose revenue if it is not completed. Third, consider whether this task can be delegated and the cost associated with doing so.
Analyze your decisions. Once you have added these items to your list, you can then sort through the information and further assess each task on your list. For example, sort through the tasks that are working on or in your business. You may want to allot a certain amount of time each week for tasks that work on your business. Another option is sort the list based on the revenue that it can make or save your business. If you marked that certain tasks could not be delegated, consider why this is the case. Maybe a new process can be developed, staff could be hired or training opportunities could make these non-delegable tasks into delegable ones. As a business owner, you simply do not have the time or energy to do everything yourself. A final option is to consider the cost that you would be willing to pay a person to complete the tasks on your list. If the rate is below your own hourly rate, you could hire someone to do these lower level tasks to realize a significant savings of your time and money. If you are performing low level tasks, you are effectively completing work that is at a low market rate and demoting yourself.
Have confidence in your choices. Following this process can help you learn how to prioritize work for your business. Having a clear, organized and concise spreadsheet can provide valuable clarity that you need in order to make these important decisions about how to best spend your time as a business owner.
How to prioritize work is far more simple than you may have previously thought. By working with small businesses, we realize how important your time is. Following this process can make a significant difference in how you operate your business. For other ways to save valuable time, contact our local QuickBooks trainer in your area.