When it's your goal to become a QuickBooks power user, there are a lot of tips and tricks to get you started. In Part One of this article, we talked about how to Choose Your Desktop, Perform Faster Searches, Find Old Messages, and Edit or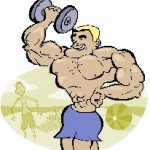 Add Multiple List Entries. Part Two will provide you with more tips.
5. Modify a Report Before You Run It
The program itself makes it really easy to tweak a report, but you don't have to wait for it to open before you start making the changes. Go to Preferences>Reports>Prompt me to modify report options before you open a report. This will allow you to see a window with all your options before you run the report. This can save you tons of time when you have large data sets.
6. Auto-Refresh Reports in Excel
Since the 2012 update, QuickBooks made it easy for you to become a QuickBooks power user with an Excel button right at the top of reports. This button will bring up export options.
7. You Can Customize Your Icon Bar
If you leave the interface the way it is, you'll have a ton of icons you'll never use or need; conversely, you may want some that are missing. You can customize the icon bar to help you use QuickBooks the way you want it with View>Customize icon bar. You can also create your own icons with the Advanced button.
8. Know How to Use the QuickBooks Product Info Page
The product information window gives you details and statistics you might need if you run into problems. Here is where you find out which release number you have, when you installed it, the license information, and information about the number of list items and users, and more. You can access it with the F2 key on a Windows machine.
9. Do Some Quick Math with the Pop-Up Calculator
If you are ever required to do a bit of quick math while you're creating an invoice, estimate, or sales order, you can open a calculator as long as your cursor is on any dollar amount field. Click on a +, –, or / key.
10. Keyboard Shortcuts
QuickBooks has a lot of keyboard shortcuts to help you become a QuickBooks power user. If you prefer shortcuts over clicking around, you'll love these options. To open a detailed Find window, use CTRL+F, to get the register associated with the current transaction, press CTRL+R. If you are in a date field, type Y to change the date to the first day of this year. For a total list of possible shortcuts, go to the QuickBooks help page on shortcuts and browse through your options within the categories: General, Moving Around a Window, Editing, Activities, Dates, and Help Windows.
If you need help with QuickBooks or any aspect of your bookkeeping and accounting cycle, click the Find a Trainer tab above for information on our local QuickBooks expert in your area.