Although QuickBooks offers users a variety of benefits, it can be easy to make a QuickBooks error.  However, you can avoid these mistakes by following this advice.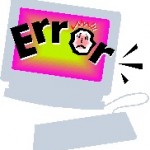 Don't Use Sample Files
QuickBooks provides users sample files to be used as an example for their own files. However, these examples only contain limited information, so it is best to establish your own templates for your company files.
Don't Forget to Use Receive Payments
The Receive Payments option should be used when the business owner wants to enter invoices in order to record their sales. Taking this step allows business owners to apply payments against the invoice.
Don't Forget to Apply Payments
QuickBooks offers a variety of options to allow business owners to pay bills. However, it is best to be consistent with the type of payment option that business owners choose. To avoid making payment mistakes, use the Enter Bills window and utilize the Pay Bills option to pay the bill. Another option is to use the options of Write Checks or Enter Credit Card Charges.
Be Careful when Recording Expenses
Avoid a QuickBooks error related to expenses by not tying your bank account to the expense field. Doing this causes the money to leave and to immediately go back into the business owner's checking account rather than decreasing the available balance in the account. Instead, use a named expense category such as Utilities to record expenses.
Be Careful when Recording Customer Payments
Avoid duplicating customer payments by simultaneously recording deposits and applying them to the account for each customer. The deposit can be tied to a bank account in QuickBooks and recorded by the business owner's bank account on the same day as the transaction.
Maintain Critical Accounts
QuickBooks establishes critical accounts to assist business owners in creating their company files. These accounts have specific names tied to them and renaming or deleting the accounts can cause QuickBooks to malfunction or to cause errors with business owners' financial records.
Be Careful with Recording Items
Items in QuickBooks include things that businesses buy, sell or resell during the normal course of their business. An item may include the purchase of a product, a service, shipping and handling, a discount and sales tax. Every item must be associated with a specific account that is appropriate for the type of item.
If you need additional assistance in avoiding a QuickBooks error, contact our local QuickBooks ProAdvisor in your area.